Monday 5 December
We thought we had missed Merci and then we saw the small yard full of white Christmas trees and a red car with the registration MERCI. Ha ha. Kate had recommended this department store but didn't say I'd find it bliss. We nearly didn't go. A department store suggests John Lewis and I could never get excited about John Lewis whereas Merci . . . It wasn't that I wanted to buy anything but I could have bought everything: misshapen pottery, murky coloured towels, wonky glass vases, non-glittery baubles for Christmas, but most of all I wanted to buy the oatmeal coloured cement floors, the grey metal stairs, the iron pipes. This was industrial shabbiness on an industrial scale. Kate wasn't to know it was what I love.
After wandering from floor to floor and buying waffled face clothes in grey and mustard and a white porcelain squashed vase we had coffee in the café. This was called "The Used Book Café". That says it all. It was a floor to ceiling, book-lined room with dim lighting from old glass chandeliers and strong coffee. It took a lot of effort to move from the Merci café but out there was Paris. 
The Pompidou Centre by comparison seemed conventional. We took the elevators up and up. I am reminded of the time we saw the exhibition L'Année Pop and 60s pop music blared as we ascended – and descended – several times as I was enjoying the nostalgia. The shop and bookshop need as much time as the gallery. I bought a book on myths about Banksy. I read that a man walked along the queues of Banksy's exhibition in Bristol patting people; then they found they all had a sticker on their backs saying, "Idiot". Was the mysterious back-patter Banksy or not? I hope it was him.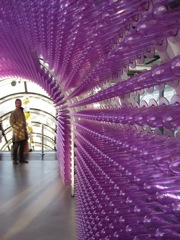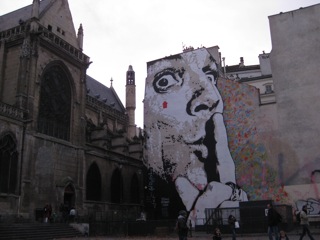 The Niki de St. Phalle sculptured fountain was colourful and around it were lots of wall paintings/graffiti. Friends of Banksy?
Steve wanted to see the Seine. We crossed the bridge to Notre Dame and were drawn inside by candles and choral music. Despite our lack of belief we like to pay our Euros and light candles. He for his mother, me for grandsons. The Christmas Crib was huge with loads of tulips – not very Merci.
Back to the flat through the lit-up Marais. Not very marshy now.