How long does it take before you stop saying, "This time last week...."? I can't help myself. 4pm on Sunday 26 September and we are at Villa Pia. Julia Blackburn is leading a Book Group discussion on Eric Newby's Love and War in the Apennines. Next Helena Drysdale has a writing workshop; Mary Knott is organising paints and pens for her art group. The tobacco leaves are being gathered from the fields; each morning the mist hangs low over the hills before a hot sun breaks through. Autumn has come to Umbria and so has Ways With Words. We have been coming to Villa Pia for 14 years to run courses in art, writing, reading, philosophy. but this year is different. We came here 10 days earlier for my daughter's wedding and all I can think now is that this time last week we were sitting in the commune while Chloë and Videl were joined in holy matrimony – or whatever the Italian phrase is for that. Besides being family the bride and groom are also fellow directors of Ways With Words.
I knew Villa Pia would be a romantic and unusual place for a wedding but I hadn't realized how special. And so I want to get every detail down - without boring the reader or myself (though no danger of that – I can't get enough wedding details)
If I start with the Italian accordionist, Vittorio, serenading the bride just after midnight on the wedding day it sounds corny but the crying began then. Vitorrio on the accordian and Videl (bridegroom to be) on his violin started to play and sing traditional Italian love songs in the moonlit courtyard at Villa Pia. Chloë had just gone to bed, ignorant of this old Italian tradition, but when she heard the music she got out of bed and appeared at her window. So Romeo and Juliet. She was entranced. But Chloë is not one to miss a party. She left the window and came down to the courtyard in her nightdress and she and Videl waltzed to the music. Ahh. The cooks and staff hovered in the shadows, guests leaned out of windows; we all had lumps in our throats and the wedding hadn't even begun. 
Next morning most of the guests had leisurely breakfasts while a few of us moved decorations into the barn. Fairy lights, candles, flowers, tissue pompoms, lavender posies by each place name, silver leaves on the ivory table clothes: transformation.
A hairdresser from Monterchi came to sweep Chloë's hair up into twirls and curls.
The kind Villa Pia staff sent a bunch of roses to Chloë's room while she donned her bridal look. By 3.30pm the vintage Jaguar had driven up the high twisty road to the hilltop town of Monte Santa Maria Tiberina. The guests all gasped with appreciation as the bride walked into the town hall with her father followed by 5 tiny flower girls. Gillon and Sally stopped playing their violins and the ceremony began in Italian.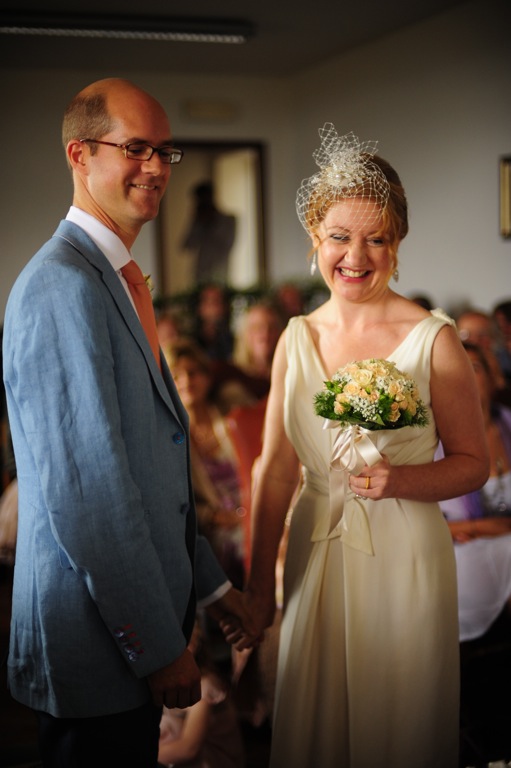 The mayor thanked them for choosing Italy for their wedding. I nearly interrupted with, "No. Thank you for allowing it to happen here." Morag (Villa Pia's owner) translated the vows. There were poems, more violin music, kisses.
The next bit was probably my favourite. The guests lined the cobbled medieval streets and threw flower petals and confetti as the bride and groom walked between them. Chloe threw her rosebud posy over her shoulder and her friend caught it. Dear, smiley, one-year-old Theo was handed to his mother and replaced the bouquet.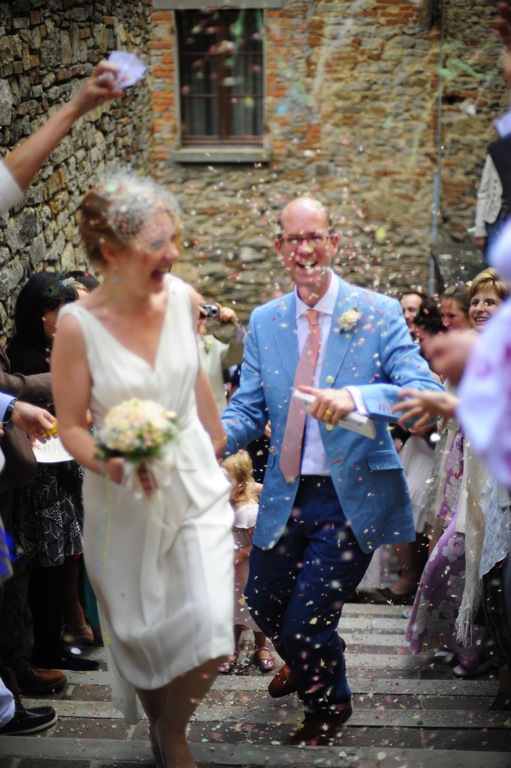 Vitorrio had driven up the mountainside and was playing on the restaurant's terrace as we arrived for Prosecco and bruschetti. What a view! What joy! We gasped with pleasure, danced, smiled for the cameras – not difficult.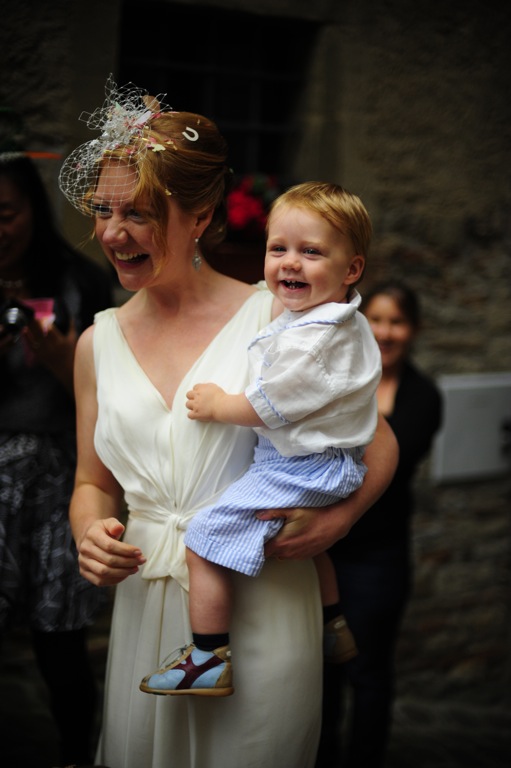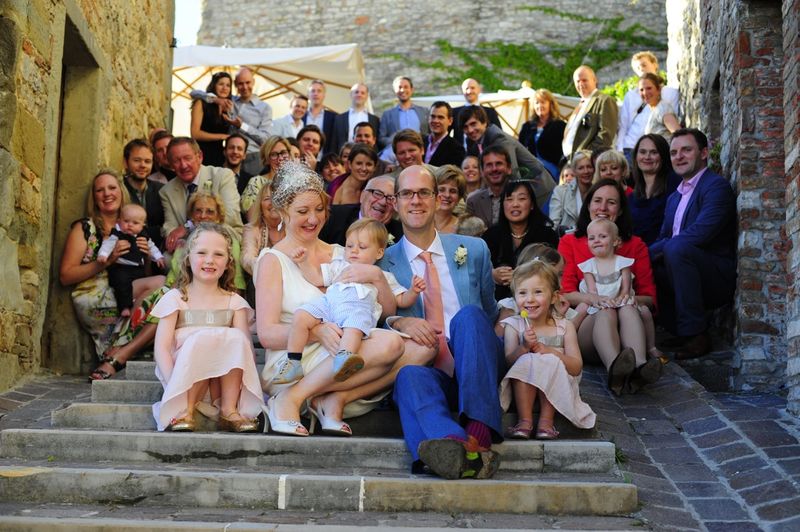 The convoy of cars – led by the vintage Jag with the happy Bar-Kars - wound down the long and windy road back to Villa Pia pipping their horns all the way; this was Italy.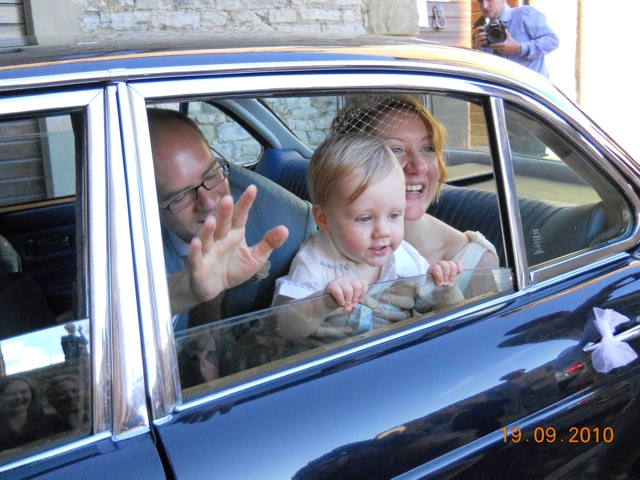 It felt as if it was all over but it had barely begun: more prosecco at Villa Pia, then the wedding breakfast (odd misnomer) in the candle-lit barn. Danny Robins was the Master of Ceremonies. He made us all stand for Mr and Mrs Bar-Kars' entrance. Much whooping and cheering. We remained standing for the Hebrew blessing from Videl's father, David. Then the meal rolled – course after course. Danny entertained us with funny stories. He told of the Italian custom of shouting Bacio Bacio (kiss, kiss) whenever there was a quiet moment and the wedding couple had to do just that. Everyone embraced this custom with gusto, metaphorically and literally.
There were speeches from the main players. Chloë was witty and clever but overcome with emotion - as we all were. She said how supported she felt by her family and friends and indeed the atmosphere was heady with that love and support from the guests. Videl talked of his late-mother Traudi which made me weep at the thought of how she would have loved to be here – so sad for Videl. Later the Italian chefs walked round the tables while we clapped and shouted our appreciation. Danny read haikus he had persuaded Chloë and Videl to write to each other. Videl's had been written well into his stag night and ended, "Chloë is a yum yum." Videl had his head in his hands.
Alessandro lit a bonfire in the courtyard and we hovered over the flames eating wedding cake while the barn was cleared for dancing. Steve projected a series of photos of Chloë and Videl through the ages. Videl looked relaxed and normal in all his childhood photos while Chloë was being dramatic in most of hers.
Hamish: Haven't you any photos of Chloë where she isn't posing?
Tom Rodgers: Were you sponsored by a knitting firm? (as there were so many pictures of Chloë in woolly scarves, hats and gloves)
The party continued.
Eventually we drifted to bed worn out with emotion. At least I was.  
Denis Healey was nicknamed "Mr. Maximum Extraction" because he extracted the maximum fun from wherever he went. Chloë's friends deserve the same nickname. Over the next few days they played tennis, bounced on the trampoline, played water rugby in the swimming pool, walked the hills, had massages from Maria Giovanna. As each group left those staying banged pan lids for a loud, mad send-off. This old Ways With Words habit was very popular with the children.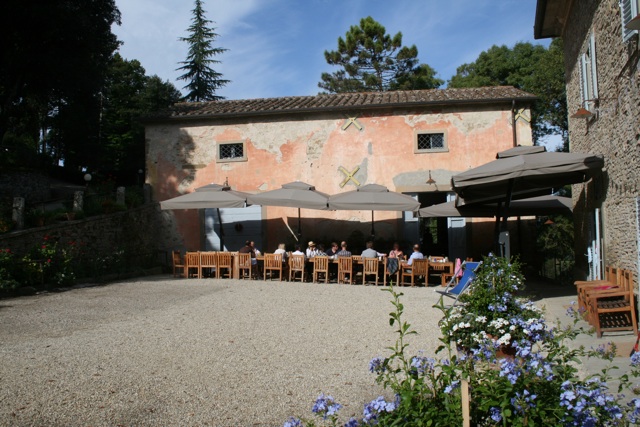 By the end there were just about 20 people left. Then Saturday came and there was none.
Next year there will be Ways With Words courses (but no wedding) at Villa Pia at the end of September, start of October (get your name on a list now; places fill quickly).
Phone 01803 867373