Many people think running a literature festival must be hell. Stephen and myself are often told, "You look so calm". People are surprised that we aren't weeping, tearing our hair out or have a haunted and distracted appearance. I'm amazed they think we would be. Why would we want to organise Ways With Words if we didn't enjoy it? Why would anyone want to come to a festival if the people most involved look as if it was a misery for them?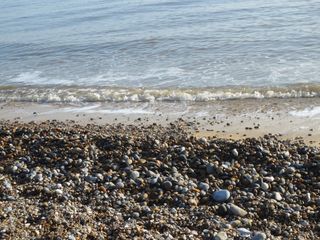 I have been saying for years: Keep Calm and Carry On. It's a bit irritating to see it plastered over loads of mugs and tea towels now but the message is still apposite for us and the staff. We knew that it wouldn't be hard to relax and be very calm for the Ways With Words festival in Southwold. Southwold is a place where life's troubles and trivia disappear. Southwold is synonymous with calmness. When we see the town's sign we sigh loudly with pleasure. A festival in Southwold adds to the enjoyment of a visit here. There is a positive and joyful atmosphere as crowds come and go to the various events. Sometimes people look thoughtful, sometimes triumphant, sometimes angry - but they are always pleased to be there.



If the ideas are coming too fast and furious to assimilate it's always possible to go to the edge of the sea, throw a few pebbles into the waves and forget the BBC, China, the holocaust, the First World War or Downton Abbey. Melvyn Bragg was seen walking along the sea's edge when he spoke at the festival. You will see me there - if not before or during the festival, definitely afterwards. You can also turn from the concerns of the world to buy fish (for sale from the fishermen's huts by the harbour). If you buy some to take home it will be packed in ice so that it arrives at your destination as fresh as when it left the sea – almost.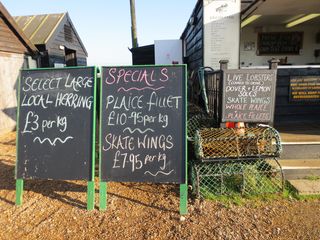 The next Ways With Words in Southwold will take place 7-11 November 2013. Many have already booked rooms at The Swan or The Crown for a festival package next November. Besides B&B and evening meal in these lovely hotels package people are guaranteed a seat in all events, even the most popular. ( And there are always a lot of popular ones. This year Jeremy Vine, Will Gompertz, Paul Mason, Pat Barker, Richard Mabey, Ronald Blythe, Simon Hoggart – and loads more sold out within hours of the tickets going on sale.)
Phone Bryony on 01803 867373 to find out about availability of rooms for 2013.