Our Ways With Words festival at Dartington Hall is our local festival. Our home and office is just 5 minutes drive away and the house is full of family and friends helping out with all aspects of the festival. We often just see them at breakfast. In a magazine interview I once said I'd prefer to miss a plane than miss breakfast and I meant it. So although a festival is waiting we all sit down to a candlelit breakfast: fruit, muesli, boiled eggs, toast, coffee and we talk about the day to come. John often has a quick breakfast as he has to pick up a writer to take to the station. One day Brian Keenan has to be driven to the airport. Lorna is reading and preparing as I've landed her with some last minute chairing. "Can you interview Fay Weldon tomorrow?" She is kind and always says yes to unpredictable gaps. Sam is ready for any trouble-shooting, though we hope there won't be any trouble. He's proved to have a supportive arm for P.D.James who at 90 is very fit but appreciates help with stairs – particularly from lovely young Sam. "My arm is here so you might as well take it", I heard him say. Jess looks relaxed and is ready to cope with the crowds. Shirley Williams, Simon King, Richard Long, Ian McEwan: for these and many others there have been sell-out audiences and big queues for returns but she is unfazed. Her day job at ENO provides good training for her venue management job in the Great Hall.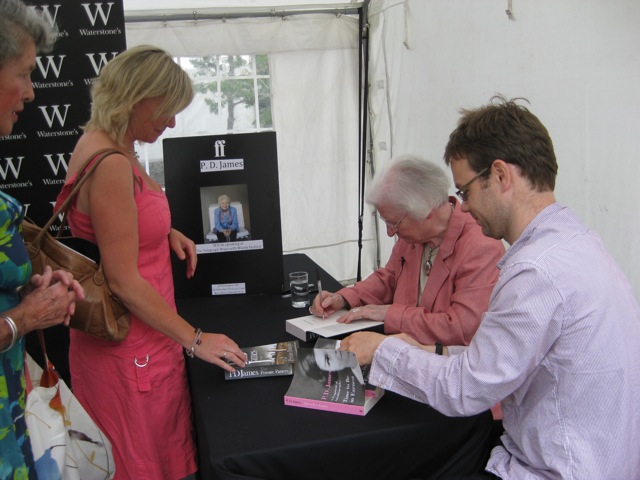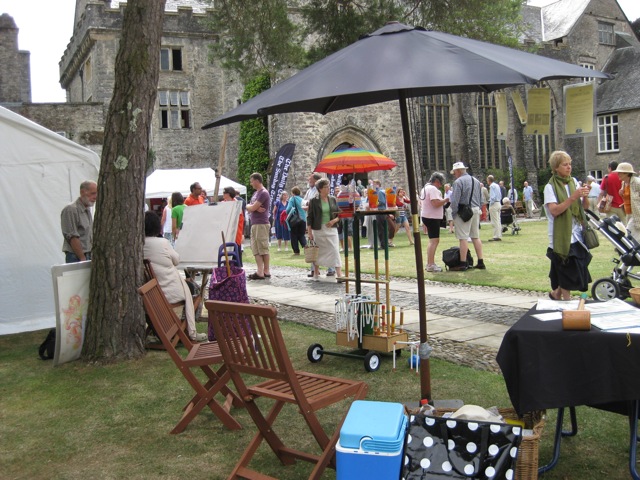 Then our newly expanded group of directors discuss the day. Chloe and Videl work out who will be where; Steve and myself remind everyone of any unusual events or visitors. A piano will be tuned for Kit and the Widow, a projector set up for Richard Long and Martin Creed.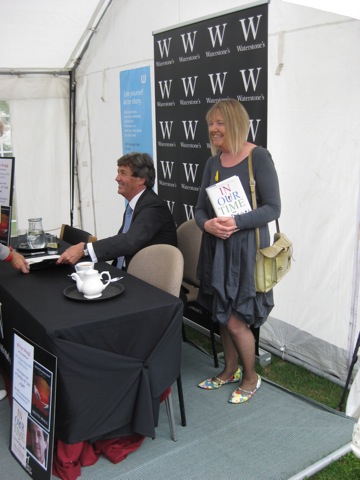 Then Theo arrives and is passed from knee to knee. He is all smiles as usual and this is his first festival. He's not one yet so it will be some years before he has a proper role but I can imagine him walking around the gardens with Antonia Fraser, showing Martin Amis to his room, charming Joan Bakewell before much longer. He is a cheerful, charming, festival baby.
My ideal breakfast lasts a long time but not during Ways With Words. The candles have to be unlit; the pots put in the dishwasher and we all have to rush to get on with the festival. Proper breakfast is a good start to the day.
We arrive at Dartington Hall, walk across the courtyard and enjoy watching visitors relaxing in the Penguin deckchairs.
GOOD MORNING WAYS WITH WORDS – we are ready for anything.
The next Ways With Words festival at Dartington Hall will be our 20th and is from 8-18 July, 2011. Twenty years of festival breakfasts!