I went to see the Henry Moore exhibition at Tate Britain. Drawings of mothers and babies, big elm sculptures, small stone ones: each room was a treat. At the end we had a coffee and watched a television programme on his life.
"I think in shapes not words"
, Moore said.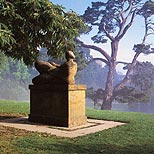 I am the reverse. I think of myself as a words not a shapes person; not surprising as I run Ways With Words. However all our festivals are for people who think in pictures and shapes as well as words. At Dartington Hall the gardens must have been landscaped by someone who saw the world in shapes. The tiltyard has geometric terraces, the row of yew trees are clipped into bulbous shapes, the paths and steps divide the gardens into blocks and there are very shapely sculptures to stroke. There's even a Henry Moore.
Come to think of it I love shapes almost as much as words.
The festival programme links words and images in many ways. Some writers have written about art and artists: Frances Spalding on the Pipers, Jonathan Jones on Da Vinci and Michelangelo, Michael Bird on Bryan Wynter. There are also some practicing artists discussing and showing images of their work. Richard Long had a major retrospective exhibition at Tate Britain last year. It left me speechless with emotion and awe – wordless in fact. Martin Creed (like Long, a Turner Prize-winner) is explaining his subversive art, as is Edmund de Waal, the world famous ceramicist. I shall be rushing to all of these – suspending my word-dominated life and reveling in the visual.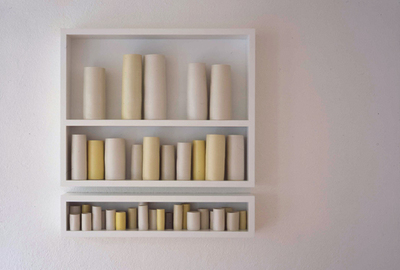 The Ways With Words festival of words and ideas takes place at Dartington Hall, Devon, 9-19 July. Come to hear the above, but if art isn't your thing try kissing with
Lana Citron
, food with
Rose Prince
, wine with
Simon Hoggart
, waves with
Gavin Pretor-Pinney
, wild-life with
Simon King
– and loads more.
The programme is on-line now.