What should I see, hear, be thinking about? For all my life I feel as if my enjoyment of the arts has been illuminated and shaped by watching the South Bank Show.
Many years ago after watching a South Bank programme about the promenade performance of the Mystery plays at the National Theatre I decided I must go and see it. I saw all three parts of the cycle and went back regularly with my young children and friends. Chloe and Hamish loved holding candles to illuminate the baby Jesus. We played the music endlessly on car journeys. Each year it was revived we returned, lastly when my children were no longer children, but they still loved it. It held the same magic for all of us adults, including my son's Japanese wife. Would I have gone initially to see The Mysteries if I hadn't seen the television programme? Maybe, but I went better informed.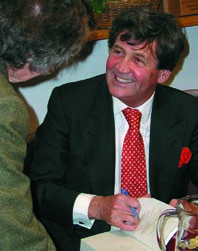 More recently I was glad to find out about the Pitman Painters. We went to see the play, saw the exhibition, bought the book. The South Bank Show often gave you a shove to pursue something further. It did this regularly for me.
Of course there were lots of subjects one wasn't going to follow up, but it was still good viewing; you were glad to have seen the programme even if you decided that a particular opera singer or artist wasn't for you. I admired the eclectic range of topics; the democratic view of art; the informed, relaxed interviewing style of Melvyn Bragg.
It's difficult to believe that it has been axed. Obviously ITV doesn't worry about the wrath of the artistic community or the serious newspapers. Millions of South Bank viewers will miss out, but those attending the Words by the Water Literature festival can see and hear Melvyn Bragg in person. The festival is lucky to have Lord Bragg as its president. Each year he comes to offer encouragement and support, to welcome everyone at the launch party and to give a talk at Theatre by the Lake by Derwentwater. He is even willing to step in at the last minute when there is a hiccup as has happened this year. Diana Athill can't come but instead Melvyn Bragg will talk about his 30+ years at The South Bank Show. For all of us who have measured out our lives not with T.S. Eliot's coffee spoons but with South Bank shows it will be unmissable.
Sunday 7 March at Words by the Water, Theatre by the Lake, Derwentwater, Keswick
Melvyn Bragg will be signing copies of his book 'The South Bank Show: Final Cut' followed by a talk in the theatre's Main House at 9.30am. Phone: 017687 74411 to buy tickets or book on-line at theatrebythelake.co.uk