When A.C. Grayling came to Ways With Words in July he asked members of the audience whether they felt guilty reading in the morning. The communal laugh made it clear it was a rhetorical question. Everyone did. And this was a literary audience. Oh we shouldn't, he insisted. What could be more valuable than developing our ideas through reading? Of course, being a literary audience, we all agreed.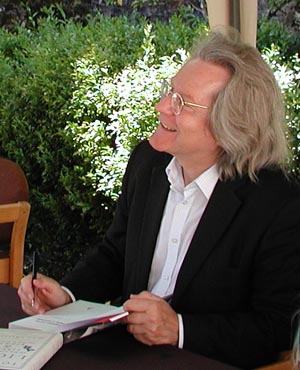 So, with A.C. Grayling's permission, we are spending our days reading. Each morning, here in the Dordogne, after the croissants, the deckchairs are put under the walnut trees and we read. We don't feel guilty at all. Partly because it is our holiday and you are allowed to read in the morning on holiday. It is also hot and sunny so we can't be expected to be more active. And also this could be considered work. We are reading memoirs because in 10 days time our Memoir Course starts here. Penelope Lively and Julia Blackburn are the tutors and each has produced a reading list for the group so we have lots of guidance. We are also re-reading their memoirs. It is a privilege to share these lives. Our holiday is an unadventurous stay in S.W. France but from my deckchair I have been in pre-revolution Russia with Nabakov, to Egypt with Penelope, Cheshire with Hilary Mantel [not quite the same].The emotional journeying has been even more extensive. Is it work or holiday? It doesn't matter; they frequently merge for us.
Driving down to the Dordogne we listened to A.C. Grayling on Desert Island Discs. Everything he says about living a good life shakes up your thinking. I was struck by his comment that he found it invigorating to have a limited life span. It made him active and productive. So besides reading in the morning I am spending my time here making jam and lavender bags, listening to tapes to improve my French [he has something to say about this too], discovering Romanesque churches and enjoying French food and wine. It's not productive, A.C. Grayling style. I can't imagine Anthony sewing lavender bags, but for me this is a productive holiday, a good life. I am defying death with my blackberry jelly.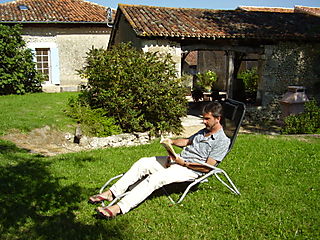 When our Memoir tutors and the course members arrive here there will be more creativity: people will write their own memories, discuss the books they've read, eat and talk together. I think Anthony Grayling should be coming to write his autobiography. His life story is dramatic and moving and explains partly why he is such a great philosopher but knowing the number of books he writes it may be ready for the printers already.
For those who want to chase their own immortality the Memoir Writing Course runs from September 8 – 12 in Leygonie, near Riberac.